R. Andrew Smith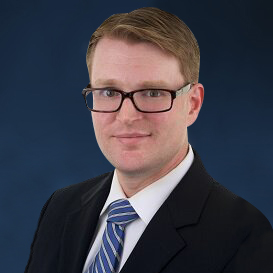 Attorney Andrew Smith graduated from Valparaiso University and obtained his law license in 2006. He began his legal career working for the City of Chicago where he had the opportunity to litigate hundreds of bench trials. In 2007, he founded his own private practice as well as joining the Chicago Legal Clinic. At the Clinic, he supervised a pro bono program providing services to qualifying clients involved in general civil and housing disputes while continuing to provide services through his private practice.
In 2015, Andrew joined Daniel P. Costello & Associates, where he provided legal services in a wide range of complex civil litigation. As a Partner at Daniel P. Costello & Associates, he managed the alternative fee arrangement practice group, supervising the cost-effective litigation of insurance defense matters for various insurance carriers. Additionally, he oversaw key business matters such as attorney hiring and training, firm-wide process standardizations, Client Management System transitions, and most recently, the transition to remote work.
In May 2021, Andrew joined Pluymert, MacDonald & Lee, Ltd., where he continues to service the litigation needs of his clients, including complex litigation matters, disputed probate litigation, commercial litigation, construction defect, insurance coverage and appellate litigation.
Andrew is an avid legal technologist, who uses cutting edge technology to improve services to clients in order to reduce costs and more efficiently reach resolutions.
Andrew resides in Chicago's northwestern suburbs with his wife and three sons. He enjoys woodworking, speed skating, grilling, and reading.
Licensure:
Illinois, 2006
Minnesota, 2013 (emeritus)
Federal District Court for the North District of Illinois
Seventh Circuit Court of Appeals
Other Affiliations:
Certified Litigation Management Professional, CLM, 2017
Chicago Bar Association
Illinois Bar Association
Representative Matters:
Obtained summary judgment in a construction defect case on the issue of the statute of limitations for a general contractor
Won jury trial for elderly client being sued by her son for personal injury
Litigated one of the initial cases involving the Illinois Biometric Information Privacy Act
Successfully defended the interests of a funeral home against novel claims about failure to permit access to a decedent's remains to the Illinois Supreme Court
Negotiated numerous matters to resolution via mediation and pre-trial settlement conference
Won summary judgment on insurance coverage matters related to construction defect claims