Featured Not-for-Profit Organizations
Organizations Serving Their Communities and the World Well
At MacDonald, Lee & Senechalle, Ltd., we value community service and support the efforts of not-for-profit organizations making our communities better places to live and shining a light of compassion in the world. Some are organizations our Hoffman Estates attorneys volunteer for or support in other ways. All of these organizations are doing wonderful work and we want to feature their stories and create a little exposure for their events.
Listing on this page does not imply that these organizations endorse MacDonald, Lee & Senechalle, Ltd. or that they are clients of MacDonald, Lee & Senechalle, Ltd., and none of these organizations have provided any consideration for this listing. If you need legal assistance from a qualified Hoffman Estates lawyer, speak with us today for more information.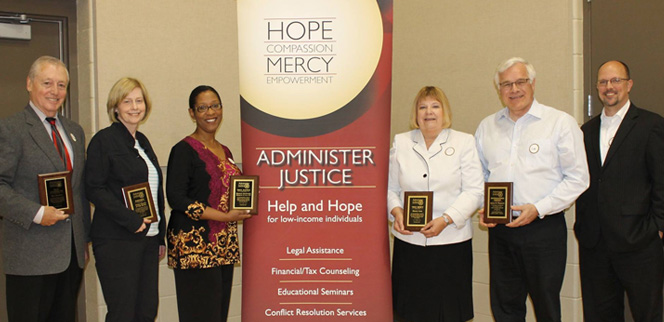 Legal Aid Services:
Jim Pluymert served on the Board of Directors at Administer Justice from 2006 to 2016, and has done pro bono legal work for clients through Administer Justice for many years. Tempia Courts currently serves as a member of the Administer Justice Board of Directors and volunteers in its monthly legal clinic at Christ Church of Oak Brook providing free legal counsel to low-income individuals addressing family, housing and consumer issues. March Altenbernt has been a volunteer attorney for Administer Justice for over six years. He currently supervises the legal clinic that takes place on the fourth Saturday of each month at Wheaton Bible Church.
Administer Justice. www.administerjustice.org, 1750 Grandstand Place, Elgin, Illinois 60123, (847) 844-1100. Faith-based organization providing pro bono and reduced rate legal services for civil matters in the Fox Valley area.
Our firm is pleased to continue its support of Shop with a Cop, Inc. in its mission to provide much needed assistance to underprivileged children and their families across Dundee Township, especially at Christmas time. Tempia Courts enjoys spending time with the officers and families during the annual holiday luncheon and shopping event. If you are interested in donating your time or making cash donation please visit their website http://shopwithacopdundeetownship.org.
Legal Assistance Foundation of Chicago. www.legalaidchicago.org, 120 S. LaSalle Street, Suite 900, Chicago, Illinois 60603, (312) 341-1070. Provides pro bono and reduced rate legal services for civil matters in Chicago and Suburban Cook County.
Prairie State Legal Services. www.pslegal.org, 303 N. Main Street, Suite 600, Rockford, Illinois 61101, (815) 965-2134. Provides pro bono and reduced rate legal services for civil matters throughout Northern Illinois (excluding Cook County).
Local Community Programs:
Bethel New Life. www.bethelnewlife.org, 4950 W. Thomas Street, Chicago, Illinois 60651, (773) 473-7870. Faith-based organization focused on community development on Chicago's West Side. Provides housing and nursing care for seniors, training programs and economic development assistance.
Elgin Corps, Salvation Army. www.salarmyelgin.org, 316 Douglas Ave., Elgin IL 60120, (847) 741-2304. Faith-based organization providing community development services in the City of Elgin and Village of Carpentersville, including programs for children, women and men, food distribution, and educational and training assistance.
Fellowship Housing Corporation. www.fhcmoms.org, 2060 Stonington Dr., Suite 200, Hoffman Estates IL 60169, (847) 882-2511. Faith-based organization providing transitional housing and assistance for homeless women and those seeking shelter from abusive situations.
NKCC Women in Business, Dollars for Scholars® Program. www.nkccwib.dollarsforscholars.org, 20 S. Grove Street, Suite 101, Carpentersville, Illinois 60110, (847) 426-8565. Business and professional women dedicated to the continuing education, development, mentoring and improvement of chamber members and providing scholarships for High School Seniors and College students affiliated with the Northern Kane County Chamber of Commerce (NKCCC) or residing in the NKCCC market area.
Youth Organizations:
Boys & Girls Clubs of Dundee Township. www.Bgcdt.org, 425 Tulsa Avenue, Carpentersville, IL 60110, (847) 551-4309. The Boys & Girls Clubs of Dundee Township serves nearly 600 at-risk Club Members per day, and over 1,200 youth throughout the year with after-school enrichment and life skill building activities in the Carpentersville and Dundee communities.
GRIP Outreach for Youth. www.gripyouth.com, 1732 W. Hubbard Street, Chicago, Illinois 60622, (773) 326-0092. Faith-based organization created to address the needs of fatherless teenagers and other troubled youth in Chicago's inner city by providing mentoring, creative programming and recreation with the goal of developing youth spiritually, mentally and physically.
Youth Conservation Alliance. www.theyca.org, 847 South Randall Road, #101, Elgin, Illinois 60123, (847) 836-0725. Charitable and educational organization dedicated to teaching youth (grades K-12) the importance of the outdoors and conservation through the sport of fishing, offering conservation curricula and related activities centered on ecosystem and fisheries research, all the while highlighting boating, fishing and hunter safety instruction.
International Relief:
One Perfect Day Project International. www.1perfectday.org, 930 Redwood Drive, Algonquin, Illinois 60102, (224) 678-4484. Faith-based organization providing monetary and other support for underprivileged children and families in the Philippines in order to meet their physical, emotional and social needs.
Lost Boys Rebuilding South Sudan. 240 West River Drive, St. Charles, Illinois 60174, (630) 513-0382. Organization providing literacy training to women and other community development assistance with the goal of breaking the cycle of poverty, genocide and violence in South Sudan.