Circle The Wagons: Protecting Assets During A Financial Crisis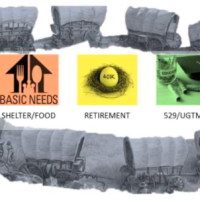 I have seen it over and over again. Mr. and Mrs. Jones comes to me saying that they need help. They have drawn down on their retirement accounts, and liquidated their kids accounts. They have credit card debt that they have now fallen behind on, and now they are seeking out an attorney's help.
I wish they had come to me sooner.
If they had come to me sooner, I would have told them that they should not have liquidated their retirement accounts or their kids' accounts. Instead, they should have paid for absolute necessities such as food, mortgage payments, utilities,-and car payments. Yes, I would have told them to not pay their credit card debt. I use the following word picture for clients to describe this strategy.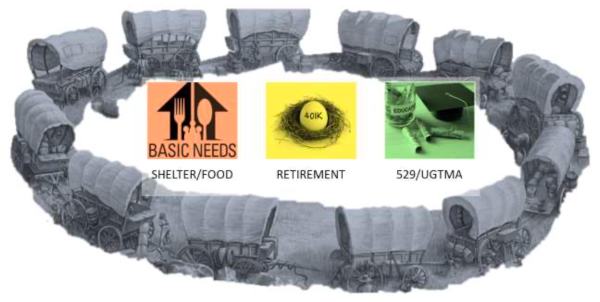 CIRCLING THE WAGONS
Won't credit card companies take my home and bank accounts if I don't pay them?
By law, credit card companies and other creditors can not take certain assets:
Retirement accounts (except if inherited) such as IRAs, 401(k)s, 403(b)s, etc.
529 College Accounts and other kids accounts known as UGTMA accounts.
Protecting Assets During a Financial Crisis
Life Insurance
$30,000 in equity in your home for a married couple.
$2,400 in any one vehicle.
$4,000 total covering any assets including bank accounts.
In fact, these are a few of the many assets that you can protect. See here for a complete list:
https://www.illinoislegalaid.org/legal-information/money-and-property-exempt-judgments
Do not tap your retirement accounts or kid's accounts to pay credit cards. The reason for this if you do not pay them, and the credit card companies sue you, they cannot touch your retirement and your kids accounts.
Therefore, use your available cash accounts to keep paying your basic necessities – your mortgage, food, insurance, utilities, etc. In fact, many mortgage companies and utilities are required by recent federal, state, and local directives to work with you if you are having difficulty making these payments.
If your available cash accounts are not available to pay these basic necessities, only then do you consider tapping your retirement accounts or kids' accounts to pay these basic necessities.
My situation seems so complicated, can I talk with you and how much is it going to cost?
I would be glad to talk with you for an initial fifteen (15) minute no obligation consultation.
If I can help you further, I can do a more in depth analysis for a flat fee of $375. I charge this fee because unlike other firms, I am not trying to push you to file for bankruptcy, but to weigh all the options that might be best for you.
From that analysis, I can advise you on ALL YOUR OPTIONS which typically involve:
Negotiating with your creditors
Chapter 7 Bankruptcy
Chapter 13 Bankruptcy