Cook County Workers Have Right to Sick Leave Expanded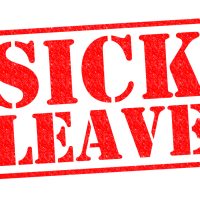 Lawmakers in Chicago, Cook County, and the state of Illinois have passed several laws and ordinances which will affect employees' rights to sick leave across the state. Be sure you're prepared for these changes to the law in the new year, and speak to an employment attorney today about getting your sick leave policies up-to-date.
The first of these measures to pass is an ordinance requiring most Chicago employers to provide paid sick leave to their employees. In October of 2016, Cook County lawmakers followed suit, passing their own ordinance making paid sick leave mandatory for all other employees working in Cook County. In total, these laws will affect over 900,000 employees. Both the Chicago and Cook County ordinances will go into effect on July 1, 2017.
Under both ordinances, an employee who spends at least two hours working within the boundaries covered by the ordinance in a two week period, and who works for a covered employer at least 80 hours in a 120-day period within the geographic boundary of the City of Chicago or Cook County must be allowed to accrue up to 40 hours of paid sick leave in a year, and carry over up to 20 hours of sick leave from one year to the next. Employees who are paid hourly should be able to earn sick leave at a rate of one hour for each 40 hours worked, and employees who are paid on a salary basis should be able to earn one hour for each week worked. The employees must be allowed to use this leave when the employee is sick, a family member is sick, the employee's child's school or daycare is closed due to a medical emergency, or the employee or a family member has been the victim of domestic violence or sexual assault.
Additionally, the State of Illinois passed its own law affecting time off for workers in the Illinois Employee Sick Leave Act (IESLA), which goes into effect on January 1, 2017. This law requires that all employers statewide who provide "personal sick leave benefits" to their workers will need to allow those workers to use that time off to provide medical care to their family members. "Family members" is defined under the law as including an employee's children, spouse, sibling, parent, parent-in-law, grandchild, grandparent, or stepparent. Medical care can include caring for that individual through illness, injury, or by taking them to medical appointments. Under the IESLA, time off to care for family members can be limited to half of that employee's annual allowance of personal sick leave. Employers should ensure that all employment policies are in compliance with these new laws, as well as existing federal laws, by contacting experienced Illinois employment law attorneys as soon as possible.
For assistance with Illinois and Cook County employment law matters, contact the seasoned, knowledgeable, and effective Chicago-area employment law attorneys at MacDonald, Lee & Senechalle for a consultation, in Hoffman Estates at 847-310-0025, and in Des Plaines at 847-298-5030.