Department of Labor Introduces New Overtime Regulations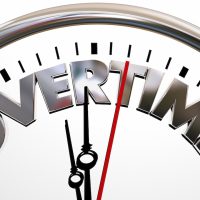 On May 16, 2016, the U.S. Department of Labor issued final regulations relating to the base weekly salary and annual pay certain classes of workers must receive to qualify for the exemption from overtime pay. Effective December 1, 2016, the base weekly salary has been raised from $455 per week ($23,660 per year) to $913 per week, or $47,476 per year. The base salary in certain industries is even higher; the base rate in the motion picture industry is $1,397 per week. This change marks the first increase to the threshold salary for overtime pay since 2004, at which time the threshold was increased from $250 per week to $455 per week. Before the 2004 change to the threshold salary, that base salary level had not been adjusted since 1975.
Under the Fair Labor Standards Act, all workers, unless otherwise exempted, are entitled to overtime pay at the rate of 1.5 times their hourly rate if they work more than 40 hours per workweek. Certain classes of employees, including executives, professionals, and administrative workers, who are paid on a salary basis, are exempt from being paid overtime as long as their position passes the so-called "duties test." In the 1970s, approximately 60% of employees qualified for overtime wages, but that number is currently down to around 7%. The new regulations are expected to increase the number of US employees entitled to overtime wages by 4.2 million workers.
The new threshold salary exempting an employee from overtime is based on the 40th percentile wages for full-time salaried employees in the lowest-earning region of the country. The new regulations also mandate that the base amount will be adjusted every three years. The DOL is currently projecting the threshold will increase to an amount in excess of $51,000 in 2020.
Employers have several options to address the change in the law. Employers can pay exempt employees their current salary levels, and either restrict such employees from working overtime, or pay them at the time-and-a-half rate for overtime. Employers can also pay exempt workers at a level that meets or exceeds the new minimum threshold amount. Employers may not apply comp time, or time worked over 40 hours in a week that is exchanged for time off work in the future, to avoid paying overtime.
Some groups have decried the salary increase as being too great, and that it will have a negative impact on job growth. The National Retail Federation has been a particularly vocal opponent of the increase, calling it a "career killer." Some experts have estimated that employers' administrative costs to implement the changes, including the costs to introduce or change timekeeping systems, will top $745 million. Additionally, the Department of Labor estimates that employers will pay an additional $1.2 billion per year in increased overtime pay.
If you are an employer or employee with questions regarding compliance with federal and Illinois state wage and employment laws, contact our seasoned attorneys at MacDonald, Lee & Senechalle, Ltd. for a consultation, in Hoffman Estates at 847-310-0025, and in Des Plaines at 847-298-5030.