Firm Attorney Runs to Raise Funds for Local Church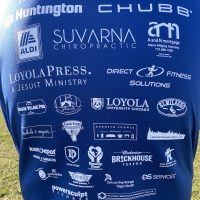 Our own Brian Bentrup was busy last Sunday raising funds and running a 5K race with his daughter in the 11th annual Saint Andrew Parish Running of the Bulldogs. Brian joined the firm last year and serves clients in estate planning, probate administration, business law, and residential and commercial real estate, as well as guardianships of minors and disabled adults in Cook, DuPage and Kane counties. Brian also volunteers his time and legal services to Chicago Volunteer Legal Services.
Proceeds from the 5K event go to support the church's sister Parish in Uganda, as well as support health and wellness programs at Saint Andrews School. MacDonald, Lee & Senechalle is proud to be one of the sponsors of this worthy event.