Things to Know About Forming a Corporation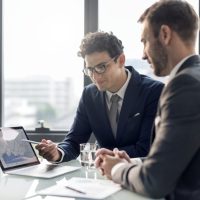 Forming a corporation is an exciting step in the life of any budding business, but it requires careful consideration of a variety of factors and jumping through many legal hoops. Below, our seasoned Illinois business law legal team discusses several of the important factors to keep in mind when forming a corporation.
Type of Business Entity
This article assumes that you have already evaluated your options and have chosen to form a corporation. However, please be aware that one of the most important decisions you will make at the outset concerns the type of business you intend to form. Different types of business entities have different advantages and disadvantages concerning taxation, liability, decision-making authority, administrative costs, legal formalities, reporting requirements, and a number of other factors.
The types of business entities in Illinois include:
Sole Proprietorship
General Partnership
Limited Partnership
Limited Liability Partnership
Limited Liability Company
C-Corporation
S-Corporation
Not-For-Profit Corporation
Professional Corporation
Corporations, LLCs, and LLPs require more work to create and are subject to more regulations concerning reporting and operation, but they offer the advantage of limited liability. Individual owners of corporations and LLCs are not directly liable for business debt or other business liabilities, whereas sole proprietors and general partners may be held individually liable. "S" Corps and "C" Corps further delineate the type of business entity. S Corp status is an option available for businesses with a limited number and restricted types of shareholders and offers particular tax advantages.
A seasoned Illinois business lawyer can walk you through your options.
State of Incorporation
You and your business partners will need to choose a state in which to incorporate. You do not have to incorporate in your home state. A variety of factors can influence which state is optimal for your corporation, including taxation, the cost to incorporate, and the laws that apply to corporate transactions, corporate duties, and business litigation. The advice that follows assumes that you will incorporate in Illinois, although the considerations apply generally.
Corporate Name
Choosing a proper name for your corporation is about more than marketing considerations. There are legal requirements for your corporation's name. First of all, you must choose a name that is not already taken by any other business in Illinois. That means conducting a thorough search through appropriate state databases.
Your corporation's name must not only be unique; it must also not be so similar as to be confused with another business. It is not sufficient to distinguish your corporation from another identical name by using corporate suffixes (LLC, Corp., etc.), definite articles ("And," "A," "The," etc.), abbreviations, or the singular, plural, or possessive forms of a word. Your corporate name will need to include the appropriate suffix ("Incorporated," "Corporation," "Corp.," "Ltd.," etc.). You cannot use certain terms that indicate a particular type of business without regulatory approval ("bank," "cooperative," etc.), and you cannot use a name that suggests an association with a governmental agency.
Talk to a knowledgeable business lawyer to ensure you follow all appropriate naming conventions and avoid unnecessary regulatory action.
Articles of Incorporation
Your corporation is legally created by filing Articles of Incorporation with the Illinois Secretary of State. The Articles can be filed online or by mail. They will include necessary details of your corporation, including: the corporation's name; name and address for an agent for service of process; the number of shares the corporation will issue; the consideration the corporation will receive in exchange for its shares; and identifying information for the incorporators. The Articles must be filed along with the appropriate fee.
Corporate Address and Registered Agent
You must establish a business address in your Articles of Incorporation, meaning a physical street address within the State of Illinois. The address is where other parties can find your agent for service of process, which is where they can send legal papers should your corporation be sued. Every corporation must have an agent for service of process within the state.
If you do not have a physical office in Illinois, you can appoint a third-party registered agent in your Articles of Incorporation. The registered agent must have a physical street address in Illinois and must agree to accept service of process on your corporation's behalf. If you do not know someone who can act as a registered agent in Illinois on behalf of your corporation, there are companies that will act as registered agents for a fee.
Corporate Bylaws
Corporate bylaws lay out the basic rules for operating your business. Bylaws are an internal corporate document and need not be filed with the Secretary of State, but they are important for the business nevertheless. They help establish your corporate operations as well as show creditors and others that your business is legitimate.
Appointing Directors
The incorporator (the person who signed the articles) will appoint the initial corporate directors who serve on the board until the first annual shareholder meeting. At the first board meeting, the directors will appoint corporate officers, adopt the bylaws, authorize the issuance of stock, and take care of other important formation tasks. A seasoned Illinois business law attorney can walk you through how to set a board of directors and what tasks they need to fulfill in the early days of the corporation.
Your EIN
Every corporation must obtain a federal employer identification number (EIN) by filling out and sending the appropriate application to the IRS.
Other Illinois Registrations
Depending on the type of business you plan to run, you may also need to register your corporation with the Illinois Department of Revenue and Illinois Department of Employment Security among others. You may also need a business license to operate a business in certain municipalities.
Seasoned Illinois Entity Formation Lawyer Ready to Help You Through the Process
If you're forming a business entity in Illinois, contact an entity formation lawyer who can offer the individualized guidance you need to make the decisions critical to the success of your enterprise. Contact a dedicated and knowledgeable entity formation lawyer at MacDonald, Lee & Senechalle, Ltd. for a consultation, in Hoffman Estates at 847-310-0025, or in Des Plaines at 847-298-5030.