What Political Activities Are Allowed for Nonprofits?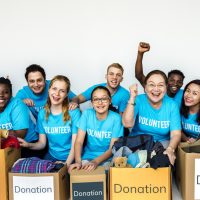 It's election season, and this cycle has provided a particularly compelling race. If you operate a nonprofit organization, you may be interested in having your organization provide information on state or local candidates or issues relevant to your cause or to the lives of community members. If you're a tax-exempt organization under §501(c)(3) of the tax code, conducting activities relating to politics can require you to walk a narrow line, so as to avoid losing your tax-exempt status. Read on to learn about what political-leaning activities are and are not allowed for tax-exempt nonprofit groups.
U.S. Tax Code §501(c)(3) allows a nonprofit organization to remain tax-free so long as the organization does not attempt to "influence legislation . . . and which does not participate in, or intervene in (including the publishing or distributing of statements), any political campaign on behalf of (or in opposition to) any candidate for public office." The IRS has made clear, through published rulings and enforcement efforts, that the statute allows organizations to engage in get-out-the-vote and voter registration drives, nonpartisan forums and education events featuring candidates for office, or events where elected officials or candidates are appearing in their personal capacity and not as a candidate for office, such as the Secretary of State discussing driver's license issues at an educational event or an elected State Representative discussing health issues at a health fair. For the purposes of this post, we'll focus on educational events and forums featuring political candidates.
Some barred forms of political activity are obvious. For example, a nonprofit could not write a check to a candidate's campaign from its coffers, nor could it publish materials which exhorted voters to choose one candidate over another using the nonprofit's funds. However, when candidates make appearances at events hosted by the nonprofit, what is or isn't allowed can become blurry. A women's rights nonprofit might wish to host both candidates for the local congressional seat to speak about equal pay for women. Provided both candidates are introduced in a neutral manner, offered equal time to speak, and are otherwise treated in an unbiased manner by the organization's representatives, it is unlikely this event would threaten the organization's nonprofit status. However, if the hosts hammer one candidate but not the other with aggressive questions, then decline to offer the same amount of speaking time as offered to the other candidate, the event could show a bias against the poorly-treated candidate and constitute advocacy of the other candidate that runs afoul of the law. Speak with an experienced Illinois nonprofit attorney before holding a political event, to ensure that you remain on the right side of the law.
If you operate a church, charity, or other nonprofit organization in the Chicago area, contact the seasoned and detail-oriented nonprofit law attorneys at MacDonald, Lee & Senechalle for a consultation, in Des Plaines at 847-298-5030, or in Hoffman Estates at 847-310-0025.