Pluymert, MacDonald & Lee, Ltd. Proudly Sponsors Little Heroes League's 2023 Big Hero Charity Golf Outing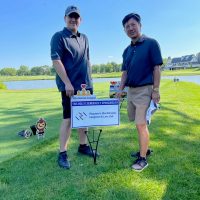 At Pluymert, MacDonald & Lee, Ltd., we believe in giving back to the community that has supported us throughout the years. We are thrilled to announce our sponsorship of the Little Heroes League's 2023 Big Hero Charity Golf Outing. This event was more than just a day on the golf course; it was an opportunity to make a meaningful impact on the lives of medically-complex babies and their families.
About Little Heroes League
Little Heroes League is a unique organization that provides life-changing care coordination for medically-complex babies. Embedded in top-ranked Level IV NICUs, the organization offers free, continuous inpatient and outpatient support to these vulnerable families. Inspired by a child named Livi, who was born with multiple complex medical needs, Little Heroes League aims to help parents manage their children's high-level care, advocate for their needs, and navigate complicated hospital systems.
The Golf Outing Event
The 2023 Big Hero Charity Golf Outing was an unforgettable event. Located at 4044 N Lincoln Ave #149, Chicago, IL 60618, the outing offered various tickets, sponsorships, and advertising opportunities. It's not just about the game; it's about coming together as a community to support a noble cause.
Why We Chose to Sponsor
Our firm has always been committed to social responsibility and community engagement. The mission of Little Heroes League resonates with us deeply, and we are honored to contribute to their cause. By sponsoring this event, we aim to raise awareness and funds to enable the organization to continue its vital work.
How You Can Get Involved
We invite you to join us in supporting this incredible cause. Whether you're an avid golfer or simply want to make a donation, every contribution counts. Visit the Little Heroes League website or the golfing fundraiser event page for more details on how you can get involved.
We are proud to be a part of an event that brings joy and changes lives. We look forward to seeing you at next year's event and making a difference together.