How to Remove an Executor?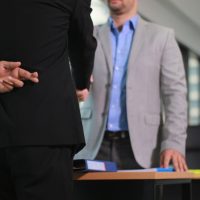 An executor of an estate is a person appointed to administer the estate of a deceased person. The executor is responsible for faithfully executing the will and overseeing the probate process. The executor could be appointed by the person who made the will, or by the court if there was no prior appointment. Not all executors execute their duties in good faith. Some might be incompetent, some may show bias towards one or another family member, and some may try to use their position as a fiduciary for their own financial gain. If you are going through the probate process and you have reason to believe the executor of the will is betraying their duty to the decedent and the heirs, you have options to remedy the situation. Read on to learn about when you can remove an executor, and call a dedicated Illinois trust & probate attorney for help drafting or executing a trust or will.
A court can remove or replace an executor
The executor owes a fiduciary duty to the beneficiaries of the estate. Their responsibility includes a high standard of diligence and fair dealing. If a beneficiary believes a will is not being properly administered, they may petition the probate court to substitute or remove the executor. The petition must be verified, and the beneficiary must provide evidence demonstrating the executor's failings and lack of capacity to serve. The court will ultimately hold an evidentiary hearing, which may include the testimony of witnesses. The court will then decide whether removal or substitution is appropriate.
Grounds for removing an executor
An executor cannot be removed merely for making a bad judgment call that caused the estate to lose money. In order to remove an executor in Illinois, the party seeking removal must show that the executor committed serious misconduct. Illinois law provides certain specific grounds for removing an executor:
● The executor was appointed under false pretenses
● The executor is deemed mentally unfit or becomes incapable of executing their duties
● The executor is a felon
● The executor commits waste or mismanagement of the estate's assets
● The executor endangers any co-executor or surety on the executor's bond
● The executor fails to give sufficient bond or security after a court orders them to do so
● The executor fails to file an inventory or accounting after being ordered to do so
● The executor hides such that process cannot be served on them
● Other good cause for removal exists
Trusted Advice and Representation from a Dedicated Illinois Probate and Trust Administration Attorney
If you are facing issues concerning probate or the administration of a trust in Illinois, get knowledgeable and detail-oriented legal help by contacting the Chicago trust administration lawyers at MacDonald, Lee & Senechalle in Hoffman Estates at 847-310-0025 and in Des Plaines at 847-298-5030.