Illinois Company Facing Lawsuit over Noncompete Agreements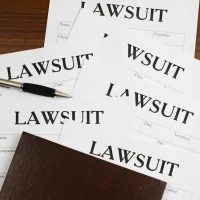 The State Attorney General of Illinois has filed a lawsuit against an Illinois company that requires its customer service employees to sign a noncompete agreement. The lawsuit filed by State Attorney General Lisa Madigan states that the agreements are illegal when imposed on low-wage workers. Companies who make regular use of noncompete agreements are strongly encouraged to re-evaluate their own employee contracts to avoid facing legal action by state government officials.
Agreements Bar Working for a Nearby Competitor
Madigan filed the lawsuit against Check Into Cash of Illinois, LLC, a payday loan company with outlets in 32 cities across the state. She claims that every employee at Check Into Cash in the state, including those who earned less than $13.00 per hour, was required to sign a noncompete agreement as a term of employment. The agreements barred employees from working at any business that provided consumer lending services or products located within 15 miles of any Check Into Cash location for a year after leaving the company. The agreement defined "consumer lending services or products" as any payday advance services, check-cashing, pawn service, or money transmission service. The definition was so broad that it would include any business offering money transfers, such as Western Union or the U.S. Postal Service, as well as car dealers or retail stores that extended credit to customers. The agreement also bars workers from obtaining employment at such a business in other states. In an announcement about the lawsuit against Check Into Cash, Madigan said, "Check Into Cash inappropriately tries to retain low ­income workers by requiring them to sign unfair noncompete agreements that attempt to prevent workers from getting better jobs elsewhere."
Illinois Law Limits Noncompete Agreement Use
Noncompete agreements are legal in Illinois, but they are subject to certain restrictions on their use. For example, the law requires that any noncompete agreements be based on a legitimate business interest and be narrowly tailored to bring about that interest. Additionally, the Illinois Freedom to Work Act, which took effect in January of 2017, makes it illegal to impose a noncompete agreement on a worker who earns minimum wage or less than $13 an hour, whichever is greater.
If you are seeking legal help with an employment matter or need help drafting dependable workplace policies for your business in Illinois, contact the knowledgeable and professional Chicagoland employment lawyers at MacDonald, Lee & Senechalle in Hoffman Estates at 847-310-0025, or in Des Plaines at 847-298-5030.