Explaining the Illinois Eviction Moratorium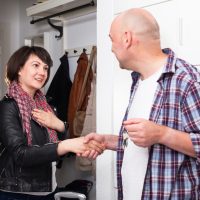 The COVID-19 coronavirus pandemic has wreaked havoc on the economy and touched nearly every aspect of our daily lives. Millions of Americans have found themselves with fewer hours, cut wages, furloughed indefinitely, or out of a job entirely. Federal and state governments have provided certain measures of relief, including moratoriums on eviction for people unable to pay rent. These moratoriums have, in turn, put a strain on landlords. Many of the federal and state moratoriums were set to expire at various points throughout the year. In November 2020, Illinois Governor J.B. Pritzker extended a version of the ban on residential evictions until January 9, 2021, but it is not exactly the same as the moratorium in place earlier in the year. Read on to learn about the eviction moratorium currently in place in Illinois, and reach out to a seasoned Illinois residential and commercial real estate attorney with any questions.
The Current Illinois Eviction Moratorium
Earlier in the year, the federal government put the kibosh on new eviction and foreclosure actions. In March 2020, Illinois likewise enacted a moratorium on all eviction proceedings. The Illinois moratorium prevented landlords from proceeding with any evictions, regardless of the financial circumstances of the tenants. The moratorium was extended every 30 days until November 13, when Gov. Pritzker issued a new Executive Order. Governor Pritzker's November 13 order extended the moratorium on evictions, but only for tenants who met certain financial conditions.
Under the current Order, no landlord may "commence a residential eviction action . . . against a Covered Person unless that person poses a direct threat to the health and safety of other tenants or an immediate and severe risk to property." The Order defines "Covered Person" as a tenant, lessee, sublessee, or other resident who files a legal declaration establishing the following:
They have a limited income, in that one of the following applies:
They expect to earn less than $99,000 in annual income for the 2020 calendar year (or $198,000 for people filing taxes jointly);
They were not required to report any income to the IRS in 2019; OR
They received an Economic Impact Payment under Section 2001 of the federal CARES Act;
They are unable to make a full rent payment due to coronavirus-related hardship such as loss of income, loss of working hours, or an increase in out-of-pocket expenses for coronavirus-related reasons;
They are trying in good faith to at least make partial payments, as close to full as they can manage; AND
Eviction would leave them homeless or force them to live in close quarters in a new congregate or shared living situation because they lack available housing options.
The Order thus prevents any new eviction actions from being brought against a tenant who can demonstrate that they are unable to pay rent for coronavirus-related reasons. Landlords can commence new eviction actions against non-covered persons.
However, the Order also directs law enforcement to delay enforcement of valid eviction orders "unless the tenant, lessee, sub-lessee, or resident of the residential property has been found to pose a direct threat to the health and safety of other tenants or an immediate and severe risk to property." So, even if a landlord can get a valid eviction order, they might not be able to enforce that eviction until the moratorium expires.
Currently, the eviction moratorium is set to expire on January 9, 2021. The government will likely continue to extend the moratorium until the spread of COVID-19 slows and the economic hardship caused by the pandemic wanes.
If you have legal questions concerning Illinois real estate matters, get professional and qualified legal help by contacting the Chicago residential and commercial real estate lawyers at MacDonald, Lee & Senechalle in Hoffman Estates at 847-310-0025 and in Des Plaines at 847-298-5030.