How to Keep Your Business Running During and After the COVID-19 Pandemic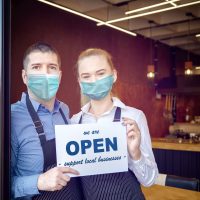 The COVID-19 pandemic has affected nearly every aspect of our daily lives and has had a devastating effect on small businesses across the country. While the light at the end appears to be approaching fast, we are not out of the tunnel just yet. Below, our seasoned Illinois labor and business law attorneys offer tips on how to keep your business running while the pandemic continues.
Promote Health and Safety
Regardless of your specific industry, the health and safety of your employees and your customers are of paramount importance. Make sure your office and/or storefront are continuing to comply with all appropriate safety measures, and that your employees are provided with the protective equipment and safety training necessary to stay healthy. Losing employees or customers to sickness is a great way to create workflow gaps, generate additional costs, and open yourself up to unnecessary liability.
Review Practices and Continue to Adapt
Throughout the pandemic, companies have been forced to adapt in order to survive. Now that you have some time to reflect on the past year or two, review which practices implemented during the pandemic were successful, why those practices were successful, and if these practices should continue. Don't fall back into old habits and routines when your employees return to the office.
Continue to innovate. Consider how you might alter your business model and operations to accommodate employees and customers. Shift focus to online storefronts, digital distribution, and delivery models, if you have not done so already. Consider offering additional goods or services that are more in demand nowadays. Expand to new clients and different business partners that complement the goods and services you do provide. Launch targeted marketing campaigns to win back customers. Use data analytics and digital solutions to adjust pricing, streamline marketing, better manage operations, and enhance the customer experience.
Look to Your Competition
Keeping an eye out for innovation is always good business practice, and in these challenging times, it could not be more important. If you have competitor businesses in neighboring locations that have come up with interesting ideas during the pandemic, consider adopting some of their methods. Look to other businesses in your area in different industries and see if you can use their methods as well.
Cut Unnecessary Costs
Continue (or begin) to prune unnecessary costs from your budget and find more cost-effective means of accomplishing other necessary tasks. For example, if you spend significant funds on television advertisements, consider more economical means to advertise. Work on cross-promotional advertising with other businesses, use mailers or billboards, or offer expert advice to the community. While advertising is important to keep a steady flow of customers, the most expensive means available is not always the best, especially when money is tight. Look to other prunable costs as well, such as unnecessary employee expenses.
Evaluate Your Finances
You need an accurate understanding of your company's finances. Take a long, hard look at the books and evaluate where you were before the pandemic, where you are now, and what the likely continued impact will be. Plan for contingencies in case business remains slow or you need to temporarily close up shop again.
Customer Service
Continue to provide great customer service. Whether a customer needs assistance finding a product or service or needs to return an item, ensuring customers receive a prompt response is vital. Consider increasing customer service hours and social media activity and presence.
Look to the Future
The pandemic is already waning in the United States thanks to an abundance of vaccines. Plan for what will happen when the pandemic is over. There will likely be a lot of new opportunities, including expansion beyond your business dealings before 2020. Looking forward serves the double purpose of keeping you prepared to jump-start your post-pandemic business as well as making sure that you, your business partners, and your staff see the light at the end of the tunnel.
If you're an Illinois business owner and need skilled legal help with business organization, contract drafting or disputes, buying or selling a business, or an unfair competition or labor and employment issue, contact the experienced and talented Chicago area business attorneys at MacDonald, Lee & Senechalle for a consultation, in Hoffman Estates at 847-310-0025, or in Des Plaines at 847-298-5030.